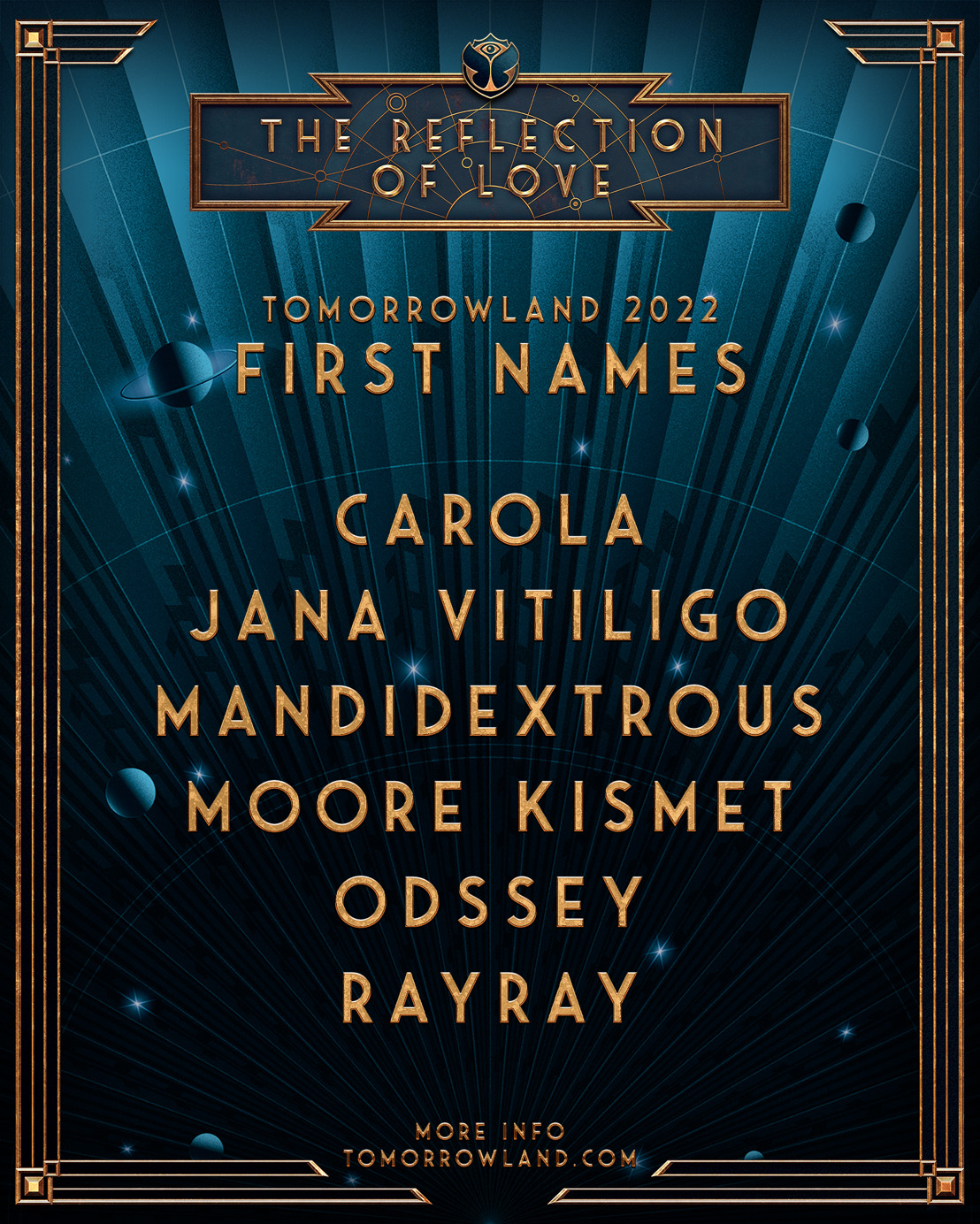 Tomorrowland reveals first artists for its legendary three-weekend 2022 edition
Carola, Jana Vitiligo, Mandidextrous, Moore Kismet, Odssey and RayRay will all grace the Holy Grounds this summer, inspiring the People of Tomorrow
Wednesday, 9 February 2022 - Being a home to hundreds of thousands of people from all walks of life, one of the most unique things about Tomorrowland remains the whole world coming together in one magical place with everyone being equal and uniting as one – symbolizing the values of freedom, respect, diversity, and solidarity. Tomorrowland wants to put six unique artists in the spotlight who are passionate about music and whose message the festival strongly supports: Carola, Jana Vitiligo, Mandidextrous, Moore Kismet, Odssey and RayRay all share those same values and are now the very first to be announced to perform at Tomorrowland Belgium 2022! Each of them will grace the Holy Grounds of Tomorrowland during this year's legendary three-weekend long edition, entering the biggest stage of their career while inspiring the People of Tomorrow and building towards a more inclusive, equal and diverse world through the universal language of music. People can now pre-register via the Tomorrowland Account on tomorrowland.com for a chance to buy tickets for Tomorrowland 2022.
This line-up is part of a long-term commitment from Tomorrowland and festival partner, Absolut Vodka to build towards a more open, inclusive, and diverse world. Starting with the stage, more details of the program will be announced here: https://unitedwedance.tomorrowland.com
Get to know everything about the first six artists to be announced to perform at Tomorrowland Belgium 2022 below. The 16th edition of Tomorrowland will revolve around this year's theme 'The Reflection of Love'. All ticket options, info and prices – day and weekend passes, including Global Journey Travel Packages – are now available via tomorrowland.com. Use your Tomorrowland Account or create one to pre-register via tomorrowland.com to be able to buy tickets during the different ticket sale dates.
Carola
​Brazilian dance music starlet Carola has cemented her reputation as one of Brazil's hottest names, making an instant impact with her highly atmospheric house sound in a very male-dominated scene. Growing up lacking financial resources, the highly talented music producer taught herself from scratch to produce, mix and master her own music, eventually becoming the first female artist ever to release on Martin Garrix's STMPD RCRDS. Since starting her journey, Carola has definitely been one to watch in Brazil's electronic scene, accumulating over 12 million Spotify streams across her releases. The year of 2022 will see Carola continue her meteoric rise to stardom, ready to make her debut at Tomorrowland!
Jana Vitiligo
​Female Belgian DJ Jana Vitiligo started out running her own agency in the nightlife industry. The experience that came with it and her never-ending pursuit to deliver memorable nights inevitably resulted in the idea to take full control of the night as a DJ under the name JANA. Being insecure for years and keeping her auto-immune condition Vitiligo secret for the outside world, after much self-reflection the Belgian power woman decided to accept and embrace her imperfections and motivate others to do the same without feeling stigmatized – her alter ego Jana Vitiligo was born in 2021. Having played at some of the biggest nightclubs, parties and festivals in Belgium, Jana Vitiligo is now ready to make her Tomorrowland debut in 2022!
Mandidextrous
​Dance music pioneer Mandidextrous has been in the game for over 10 years, renowned for their energetic techno & drum and bass sounds. Openly identifying as non-binary transgender, this DJ, producer and label boss started their own record label Amen4Tekno and made it as a transgender underground artist in a predominantly cis-male dominated scene. Striving to change attitudes and expanding minds about transphobia, Mandidextrous abolishes the notion of gender, letting their music break boundaries and conquer the dancefloor. Being a regular venue filler at many clubs and festivals in the UK, Mandidextrous is ready to make their debut at Tomorrowland in 2022!
Moore Kismet
​Southern California raised DJ and producer Moore Kismet first appeared in the bass music scene at just 15 years old, quickly progressing from an artist to watch to an industry staple. The young bass music prodigy is known for their unique and ever-evolving music, often inspired by the artist's experiences with love, mental health and personal growth. Being an openly pansexual and non-binary artist and an influential voice of the LGBTQ+ creative community, the electronic music wunderkind never ceases to impress with their forward-thinking style, redefining dance music and leading the next generation of emerging electronic music artists. At the age of 17, Moore Kismet is ready for his Tomorrowland debut in 2022, further taking the dance music world by storm!
Odssey
​Young Belgian DJ & producer Odssey started as a DJ at the age of 12, performing at a bunch of youth clubs in his hometown. Two years later, Odssey started producing and making his own music, using his autism to keep his focus, explore his wildest ideas and shape his mixing skills and production talents. Having made his debut at Tomorrowland in 2017 and having released his first record with Generation Smash in 2019, Odssey is finally ready to return to the Holy Grounds in 2022!
RayRay
​Fast-rising DJ & producer RayRay is Taiwan's finest musical export and is dropping pins across the global electronic music map. Starting out her career as a hip-hop DJ at the age of 17 in the local Taipei scene, she organically gravitated to the electronic music cartel, making her a diverse addition to the ever-evolving music industry. As Taiwan's first breakout dance music artist, RayRay helps Taiwan's expansion into the worldwide dance music industry, providing opportunities for other Asian artists to make connections with international acts and help them to become known overseas. Having made her debut at Tomorrowland in 2018, RayRay is finally ready to return to the Holy Grounds in 2022!
Ticket sale dates for Tomorrowland Belgium 2022
Global Journey Travel Packages: go on sale on February 12 at 17:00 CET
Worldwide Pre-Sale: starts on February 19 at 17:00 CET
Worldwide Ticket Sale: starts on February 26 at 17:00 CET
Tomorrowland Belgium 2022
Weekend 1: Friday July 15 – Sunday July 17

Weekend 2: Friday July 22 – Sunday July 24

Weekend 3: Friday July 29 – Sunday July 31
6 questions with Carola
How did you start out as a DJ & producer?
​My first contact with e-music was back in 2007 when a cousin of mine introduced me to the world of raves and psy trance, a genre which was popular at the time. Four years later, I got closer to the EDM scene, and it was at that moment I decided I wanted to become a DJ and music producer. But I didn't have enough money to take classes, so I searched for tutorials on the internet and started learning by myself. I watched so many videos on YouTube, read lots of articles regarding mixing, harmonies, equipment, so on and so forth. Two years later, I started to learn music production, also by myself. Several friends of mine that are music producers noticed how committed I was, and they offered to answer any and every possible question I had. They helped me a lot.
What's your favorite dance music record of all-time?
​Swedish House Mafia ft. John Martin - Don't You Worry Child
What would be your dream music collaboration?
​There are so many artists that inspire me, but if I could spend some time in the studio with Skrillex, Diplo or Flume, I'm sure we would create amazing things!
How can we increase diversity in dance music?The lack of references reflects on our own image perception, if there aren't people who are similar to me occupying certain spaces, I will hardly believe that I can occupy them too. We need to provide opportunities for everyone so that they can get to know and to occupy these prominent places, because in a plural world, it makes no sense to have a single voice, a single story or way of being.
What are you most excited about playing at Tomorrowland?
​It is every artist's dream to be on that stage. It still hasn't sunk in that I'll be there.
Who is your biggest inspiration?
​My grandmother is my greatest example of strength and determination, without her I would never have come this far.
6 questions with Jana Vitiligo
How did you start out as a DJ & producer?
​I was already running my own entertainment agency in the Belgian nightlife industry for some time. I was more and more stimulated by the musical aspect, so I took the step to fully immerse myself in the DJ world. I soon realized that music is an ideal outlet for me to use my creativity.
What's your favorite dance music record of all-time?
​'Nothing Around Us' by Mathame and Lyke. I think it's very important that music expresses and evokes emotion. I always experience this feeling when playing this record.
What would be your dream music collaboration?
​My ultimate dream collab would be together with Monolink, because of his artistic versatility.
How can we increase diversity in dance music?
​I think dance music today is certainly very diverse, thanks to festivals such as Tomorrowland where all nationalities are represented, and a wide range of artists gets the chance to perform.
What are you most excited about playing at Tomorrowland?
​I'm really excited to play at Tomorrowland, one of the largest festivals in the world. I'm very grateful because Tomorrowland gives me the opportunity to portray Vitiligo in a positive light and motivate others to be 100% themselves, without having to feel bad about themselves. After all, we are all unique in our own way.
Who is your biggest inspiration?
​My biggest inspiration is the German DJ and singer-songwriter Monolink, known for enriching his DJ sets by means of instruments and singing live. 'Otherside' is one of his tracks that I play very often.
6 questions with Mandidextrous
How did you start out as a DJ & producer?
​I started DJing when I was about 14 years old with my first family of friends. We all grew up listening to D&B and Happy Hardcore from tape packs such as Helter Skelter and Dreamscape etc. It made me want to be a DJ, so I started buying vinyl and turntables. I then found myself frequenting squads in the local area and befriending various sound system crews after starting our own called Vortex. I then started DJing at illegal raves as well as curating raves with my friends circa year 2000. This carried on for quite some time and I got deep into playing at raves every weekend all over the UK. There came a point where I started falling in love with techno and that was all I mixed for ages. Around 2008/2009 I found myself on some mad journey of self-exploration and self-acceptance, so I found a passion for making and creating music using Ableton as it helped me process thoughts and express myself. The sound I wanted to make just wasn't really out there, so I started my mission to write my own sound. It's continued ever since.
What's your favorite dance music record of all-time?
​This is a super hard one as there is countless answers but one that really sticks out to me is 'The Creeps' album by Ed Rush and Optical on Virus Recordings. The whole album is amazing, and I never came across a D&B album that set a tone so much as 'The Creeps'. Still to this day 'Pacman' is one of my all-time favorite D&B tracks. One of many though.
What would be your dream music collaboration?
​My dream musical collab would be to work with Chris Lorenzo, I just love his production and his vibe. I have a huge passion for bass house and modern bassline, it really excites me, and he is one artist that over the years has impressed me so much with his production.
How can we increase diversity in dance music?
​I think really, it's going to come down to the larger promotional outfits in dance music to really look into the talent that is out there and open doors for people. There really are so many amazing people from all ethnicities – women, trans, gay, black, white, etc. – doing insane things within music. It's just the larger platforms will need to open up and allow them to shine in the public eye. It will always come down to exposure but also encouragement. Something that myself and my friend The Nathan X are trying to achieve at the moment is more queer artists in Drum & Bass of which there seems to be a huge lack of, but that's not to say these people aren't out there, so we encourage people to be open and to come forward to us with their passions. People also need to be driven and for the right reasons. Music, performance and visibility.
What are you most excited about playing at Tomorrowland?
​There are many things to be excited about when it comes to Tomorrowland, but for me it's the opportunity to perform my music to new people and share my energy as that's what I love to do the most. I love to uplift people – my sets are never dark and moody as it's just not me and I just love seeing people smile. So that's what I am excited for the most. And of course, seeing many other artists do the same and hopefully some I've never come across before. Also take in the amazing production that is Tomorrowland.
Who is your biggest inspiration?
​That's a really hard question to answer! I think for me its S.O.P.H.I.E (R.I.P). I only came across S.O.P.H.I.E in the last few years of her career but what she had done in music was outstanding. She not only pursued her own sound, but also was openly trans and a leader at that. I do love a lot of her music, but I am more inspired by who she was and what she stood for. The best ones always seem to go so soon.
6 questions with Moore Kismet
How did you start out as a DJ & producer?
​I started 'producing' when my mom got me my first laptop at the age of 5. I started messing around with video editing and making horrible house songs in Mixcraft with random loops. A few years later at 7, I got back into it but this time, I started to teach myself how to manipulate loops in my own way and create sounds myself. Fast forward 10 years later, and now we're here!
What's your favorite dance music record of all-time?
​Insane by Rickyxsan
What would be your dream music collaboration?
​I would love to collaborate with either Adele or Beyoncé. That would be a blessing.
How can we increase diversity in dance music?
​Putting people of the global majority in positions of power and change and supporting up-and-coming artists within marginalized communities.
What are you most excited about playing at Tomorrowland?
​Meeting Netsky and traveling out of the United States for the first time!
Who is your biggest inspiration?
​My mom :-)
6 questions with Odssey
How did you start out as a DJ & producer?
​I officially started playing under the name 'Odssey' back in 2014. I initially used to play in a bunch of youth clubs in Brussels with the Brussels Youth Clubs organization, which gave me several opportunities to perform as a DJ in Brussels. I also started as a producer during that period. My career as a producer really took off when I signed my first record with Generation Smash in 2018.
What's your favorite dance music record of all-time?
​Tough choice, but I'll go with 'Levels' by Avicii – a record I can keep dancing to. I also often play it in my DJ sets, it's such an iconic song with a melody that gets stuck in your head.
What would be your dream music collaboration?
​Ever since I started DJing and producing, I always wanted to release a track with Dimitri Vegas & Like Mike. They make songs that are always appropriate for the times we live in. That's what I try to live up to as an artist.
How can we increase diversity in dance music?
​As someone with a disability myself, namely autism, I make use of that disability in my production talents. This allows me to keep the focus on my music. The music industry has already come far with new talents emerging, but we could even go deeper into this and try to find hidden talent in the music world.
Showing that music revolves around fun can also help. Tomorrowland has definitely proven that in recent years. Music unites people and has been around for centuries. During the difficult times we could all give music, fun and uniting an extra push.
What are you most excited about playing at Tomorrowland?
​Seeing people from all different countries and nationalities having fun together always gives me goosebumps. The massive energy at the festival also gives me the ultimate kick to play there.
Who is your biggest inspiration?
​Dimitri Vegas & Like Mike have been my biggest inspiration ever since I first heard about them back in 2011, especially when it comes to performing. I've learned a lot from how they interact with the audience and how they found their way in the tough music industry. The Belgian brothers and their renowned Smash The House label have given me the opportunity to release my first single with Generation Smash – a music label for emerging artists – in 2019.
6 questions with RayRay
How did you start out as a DJ & producer?
​At a young age, I was into hip-hop, R&B, funk, and soul music, and I started learning turntablism and the cello. After getting into the hip-hop music scene in Taiwan, I was crowned champion of the 2013 Red Bull Thre3style DJ competition. The same year, I presented Taiwan to Toronto in the International DJ Championship. After that, I focused on my own music productions because I didn't want to only perform with other artists' music, but I wanted to make my own. In 2016, I was selected as the participant of Red Bull Music Academy in Montreal. The same year, I dropped my first EP "Reincarnation" establishing fame as The Queen of Bass Music in the Asia music industry. In 2017, I had started working closely with Barong Family & Yellow Claw as my management and I released several EPs on the label.
What's your favorite dance music record of all-time?
​Burial – Archangel. I can never stop listening to this song. It inspires me in different ways every time I listen to it. It calms me down and it brings back a lot of memories of being an artist.
What would be your dream music collaboration?
​Noisia. I've been really into drum & bass recently. I've been listening to all the records from Noisia. The excellent sound designs, the exquisite layers, and the energy of their productions are always a source of inspiration for me.
Skrillex. I always wanted to work with Skrillex. He taught me a lot about being an artist when we met in 2015. I'm always fascinated and inspired by the music he has been putting out.
How can we increase diversity in dance music?
​First of all, being an Asian woman in dance music, I want to give a shout out to all the women in music - we are absolutely killing it. However, people like me in the dance music scene were not that many. In order to compete and stand out I've had to work really hard and try to build my own. EDM is a culture which includes people's cultural & racial backgrounds, music tastes, etc. I think the most important thing about diversity is to accept everyone and to be open to all the possibilities. I have met so many great artists around the world. They have been using their own ways in music to tell us their own stories. No matter what your music, race, religion, sexuality, gender is, we embrace the differences, and we make the culture our own.
As an artist, staying true to yourself, being proud of who you are and showing everyone that you genuinely have the passion and the love for what you're doing! You can discover all the possibilities in music, so you can really create something meaningful and inspiring – no matter where you are from or who you are.
What are you most excited about playing at Tomorrowland?
​This will be my third time playing at Tomorrowland with my label Barong Family. Due to the pandemic, there weren't that many festivals around the world in the past 2 years. I'm very excited about meeting my friends and fans again, preparing a brand-new set, showing the crowd all my new music, and celebrating with everyone that we finally can be together and enjoy the best music experience. I also like to walk around the different stages after my set to experience the good vibe and look for some fresh ideas/sets from other amazing artists.
Who is your biggest inspiration?
​I started making music because of DJ Shadow and J Dilla – they inspired me to combine hip-hop and modern electronic music together. Noisia are also one of my all-time favorite DJs. Whenever they released a mixtape or production I instantly got inspired and listened to them non-stop. Skrillex also taught me a lot about music production and changes in the music scene. Yellow Claw always gives me good suggestions when it comes to my music production, and they always push me hard and motivate me to get to the next level of my career. To be honest, I learnt a lot from everybody I look up to – no matter if I know them or not.
I have been DJing for almost 13 years now and producing for 6-7 years. Seeing people enjoy the music I make and being entertained by my live performances really gave me the career motivation to go full out and pursue this. I'm always motivated by everything that happens in my career and so here we are!
Debby Wilmsen Press Coordinator & Spokeswoman, Tomorrowland
Jordy Van Overmeire PR Coordinator, Tomorrowland