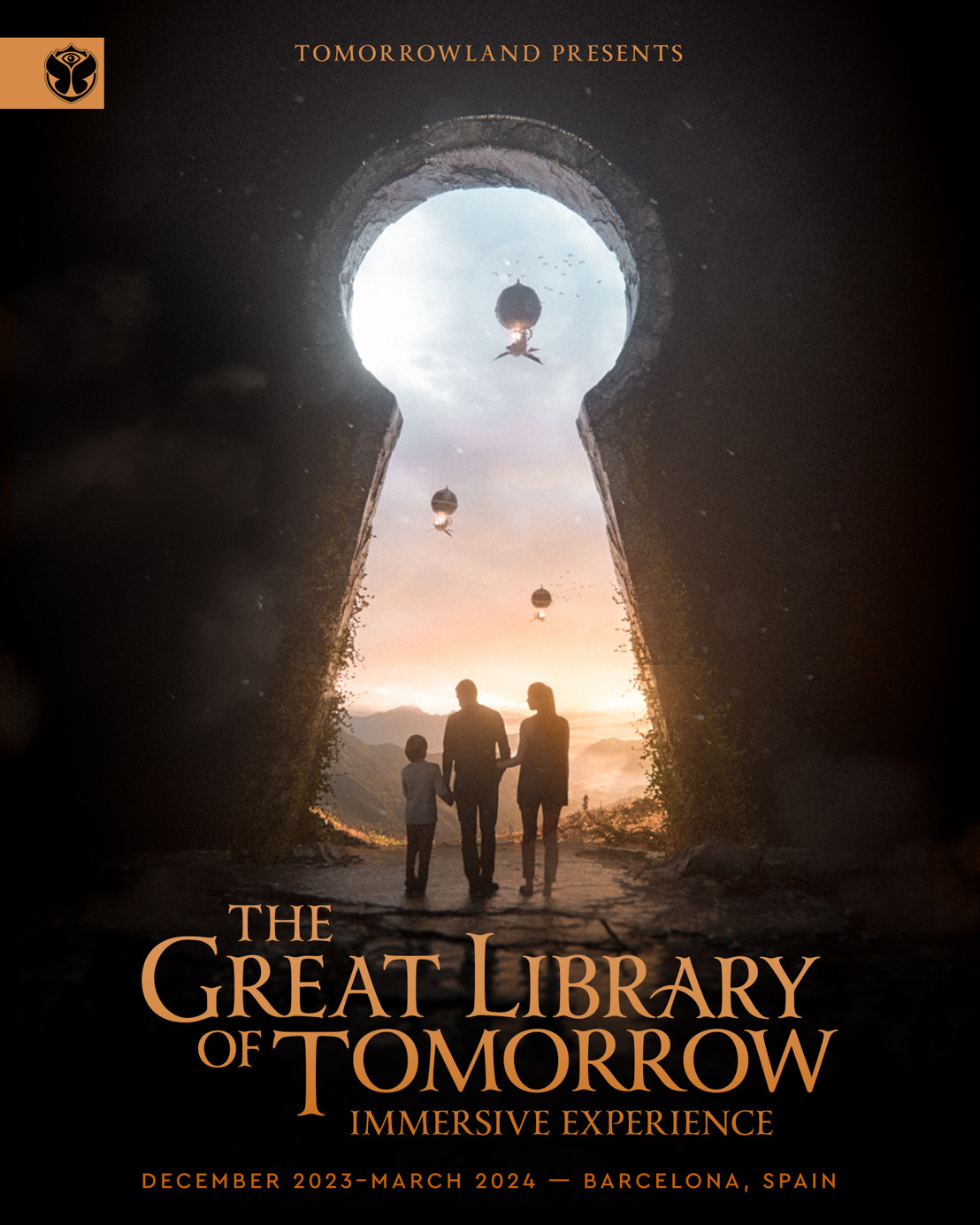 Tomorrowland lanceert 'The Great Library of Tomorrow' in het hartje van Barcelona
The Great Library of Tomorrow, een gloednieuwe immersive experience die je meeneemt in de magische wereld van Tomorrowland
Maandag 6 november 2023 - Vanaf december kan je in het hartje van Barcelona terecht voor 'The Great Library of Tomorrow'. Tomorrowland opent er een gloednieuwe beleving waarbij bezoekers worden meegezogen in het magische universum door middel van geavanceerde technologie. Het creatieve team achter het bekende festival en Xtended Reality Music Hub ontwikkelde deze gloednieuwe immersive ervaring. Je neemt deel aan een onvergetelijk avontuur en je betreedt de verschillende werelden van Tomorrowland zoals het rijk van Melodia of de Great Tree. 'The Great Library of Tomorrow' start op 15 december in Aribau Immersive Space in Barcelona. Tickets en alle informatie vind je via thegreatlibraryoftomorrow.com.
Duik in de werelden van Tomorrowland
​Ontworpen voor alle doelgroepen, belooft 'The Great Library of Tomorrow' één van de populairste attracties van Barcelona te worden. Bezoekers krijgen de kans om op ontdekking te gaan in een wereld vol verwondering en avontuur waar de verhalen achter de Tomorrowland-thema's tot leven komen. Door de jaren heen heeft Tomorrowland een legendarische reputatie opgebouwd om met behulp van authentieke, creatieve en meeslepende verhalen en thema's mensen van over heel de wereld te verbinden. Elk jaar wordt er een nieuw festival thema voorgesteld dat tot leven komt in een betoverende trailervideo, via de legendarische MainStage op het festivalterrein enzovoort. Omdat de verhalen van elk thema niet volledig kunnen worden verteld tijdens het festival, startte Tomorrowland ook met het tot leven brengen van de magische werelden en verhaallijnen in de vorm van een fantasiereeks. 'The Great Library of Tomorrow' biedt nu een nieuwe manier om iconische hoofdstukken uit de geschiedenis van Tomorrowland binnen te stappen en virtuele werelden te verkennen.
In het hart van Barcelona
​Ervaar de magie van Tomorrowland als nooit tevoren met een ongelooflijke meeslepende ervaring en bereid je voor om gekatapulteerd te worden naar 'The Great Library of Tomorrow'. Gelegen in het hart van Barcelona in de Aribau Immersive Space (op slechts een steenworp van Plaça Catalunya), starten bezoekers hun 1 uur durende reis doorheen de verschillende verhalen van Tomorrowland. Verschillende digitale installaties en een VR-metaverse ervaring, verspreid over meer dan 1.000 vierkante meter laten je onderdompelen in een nieuwe mythische wereld.
Nieuwe technologieën
​Twee jaar heeft het geduurd om The Great Library of Tomorrow' te ontwikkelen Het markeert een volgende stap in de opbouw van het entertainmentspectrum van Tomorrowland. The Great Library of Tomorrow combineert state-of-the-art technologieën die voor de eerste keer ooit worden gebruikt. 'The Great Library of Tomorrow' is het resultaat van een nauwe samenwerking tussen Tomorrowland en Xtended Reality Music Hub (Blanco y Negro Music en Layers of Reality). Twee bedrijven met expertise in het creëren van gerenommeerde muziekfestivals, magische evenementen en tentoonstellingen zoals Dalí Cybernetics, Gustav Klimt – The Immersive Experience of Frida Kahlo – The life of an icon. Blanco y Negro Music is de promoter van The Great Library of Tomorrow en See Tickets is de officiële ticketpartner.
The Great Library of Tomorrow
​December 2023 - maart 2024
​Aribau Immersive Space, Sala 5. Balañá en Viu. Barcelona
​Tickets & info: thegreatlibraryoftomorrow.com
Debby Wilmsen Press Coordinator & Spokeswoman, Tomorrowland
Jordy Van Overmeire PR Coordinator, Tomorrowland