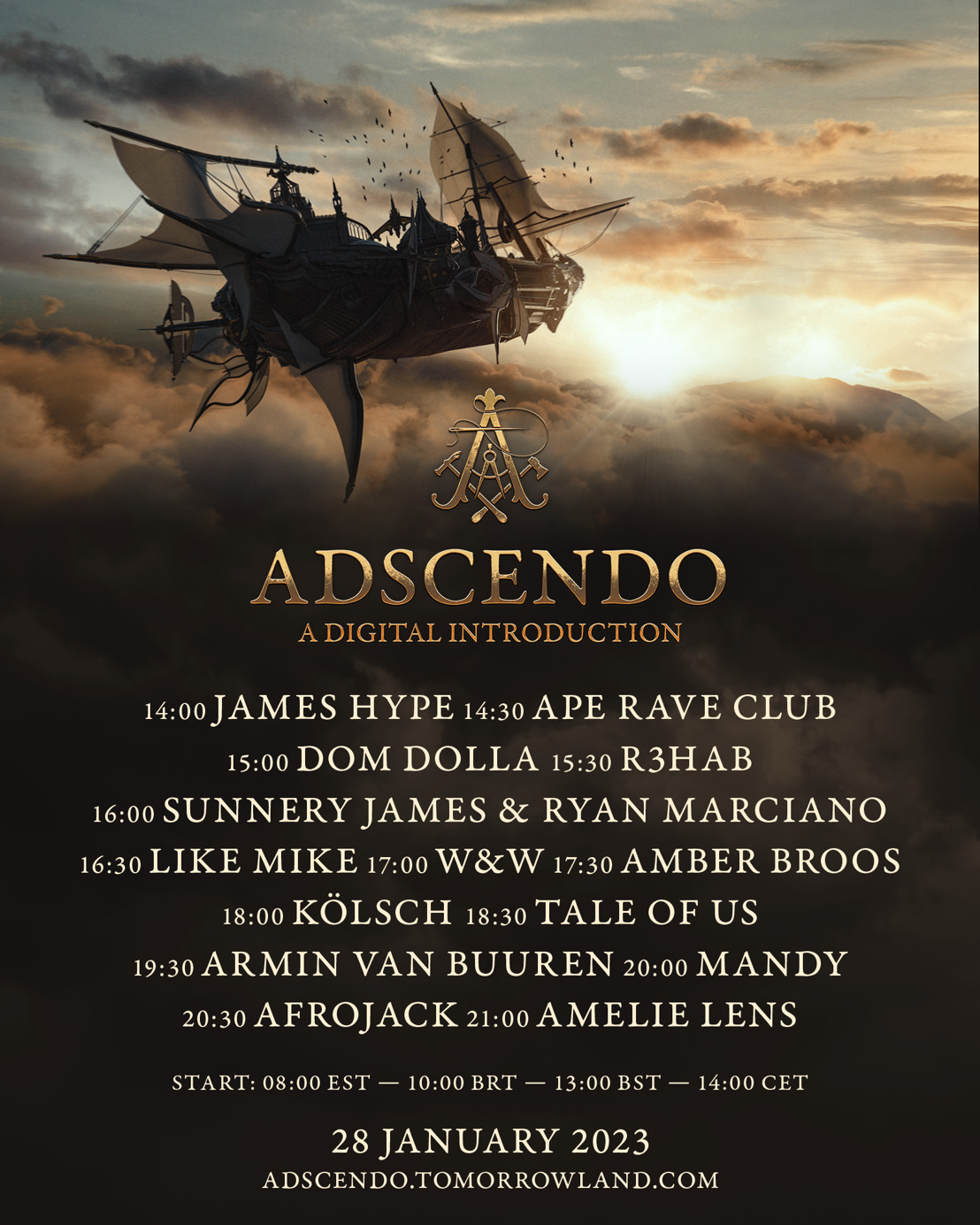 Discover the full line-up of Tomorrowland Belgium 2023 on Saturday January 28 during 'Adscendo – A Digital Introduction'
The free digital experience will feature exclusive sets by fourteen of the world's best electronic artists and will give a first glimpse of the 2023 Tomorrowland theme
Tuesday, 24 January 2023 - The countdown to a magical festival season is on! This Saturday January 28, Tomorrowland is unveiling the free brand-new digital spectacle 'Adscendo – A Digital Introduction': people around the world will be able to celebrate together during exclusive DJ sets by Afrojack, Amber Broos, Amelie Lens, Ape Rave Club, Armin van Buuren, Dom Dolla, James Hype, Kölsch, Like Mike, Mandy, R3HAB, Sunnery James & Ryan Marciano, Tale Of Us and W&W amidst a fascinating digital world, as well as get a first glimpse of the 2023 Tomorrowland theme 'Adscendo' and discover the first ever exclusive reveal of the full Tomorrowland Belgium 2023 line-up. Pre-register now via adscendo.tomorrowland.com to receive free access to 'Adscendo – A Digital Introduction'.
Everyone who pre-registers for the ticket sale of Tomorrowland Belgium 2023 will be able to join the digital experience for free, giving music fans from all corners of the planet a chance to party with their friends and count down to the summer festival season with a first look on this year's festival theme and brand-new music from some of the finest Tomorrowland 2023 artists. From 14:00 until 21:45 CET, fourteen of the world's most prominent artists in electronic dance music will give a unique live performance during a mesmerizing spectacle in a new digital world, inspired by the mythical world of 'Adscendo' and combined with cutting-edge 3D-technology, special effects and video production – similar to the renowned digital experiences of Tomorrowland – Around the World. As a cherry on top, the full line-up of Tomorrowland Belgium 2023 will be announced exclusively this Saturday during 'Adscendo – A Digital Introduction'.
The first digital performance of 'Ferrari' hitmaker James Hype and a unique solo set by Like Mike
​Afrojack, Armin van Buuren, R3HAB, Sunnery James & Ryan Marciano and W&W are some of the Tomorrowland veterans to guide people through the digital music experience. Techno & house music legends Amelie Lens, Ape Rave Club, Dom Dolla, Kölsch and Tale Of Us will also be joining, while British superstar James Hype will be making his first digital appearance with his global chart-topping hit 'Ferrari'. The iconic Belgian DJ & producer Like Mike will be performing a unique solo set, while Belgian female hardstyle powerhouse Mandy and the 20-year-old One World Radio resident Amber Broos will also deliver the most energetic sounds to fans across the globe.
Mandy: "Doing a recording for such a special digital production is still something else. Like everything Tomorrowland does, they aim for the best result possible. The amount of detail in this digital world is insane and hopefully it gives people from all ages, all over the world, an impression on how the real Tomorrowland events are. It's insane to see all the crew and equipment behind the scenes which are needed to create this special digital edition of Tomorrowland. During the recording, I played a test version of my new single 'UNDRGRND' which will be released the first week of February. I'm curious if the people notice the changes that have been made in the final version."
Amber Broos: "It is the first time that I participated in such a large-scale professional production as 'Adscendo'. I already got a sneak peek of the visual effects projected on the backdrop and they really look breathtaking. The decor and visuals are bringing an extra dimension to my set. It's a fun way for the music scene to meet each other in between of live interactions. I made a mix of new and classic dance tracks, a combination of my favorite music, so that the audience can get a taste of what I usually bring on stage."
DJ performances recorded during Amsterdam Dance Event
​This unique digital spectacle will already be Tomorrowland's fourth digital music festival experience, following two successful editions of Tomorrowland – Around the World and the digital New Year's Eve celebration Tomorrowland 31.12.2020. All DJ performances for 'Adscendo – A Digital Introduction' were recorded in a brand-new studio in Haarlem during Amsterdam Dance Event. Tomorrowland's large production & creative team has worked very closely with several specialized suppliers and experts to create 6 unique digital environments in Unreal Engine 5, using both 6 real cameras as well as 154 unique virtual cameras.
'The story of Adscendo'
​Tomorrowland Belgium 2023 will take place across two weekends from July 21-23 and July 28-30. The 17th edition of Tomorrowland in 2023 will revolve around the theme 'Adscendo', turning De Schorre into a magical destination high on the horizon. For a chance to buy tickets during the different ticket sale dates for Tomorrowland Belgium 2023, you will need to pre-register via the Tomorrowland Account on adscendo.tomorrowland.com. If you pre-register, you will receive free access to 'Adscendo – A Digital Introduction' on January 28. ​
Ticket sale dates for Tomorrowland Belgium 2023
Worldwide Pre-Sale: starts on January 28 at 17:00 CET
Worldwide Ticket Sale: starts on February 4 at 17:00 CET
Tomorrowland Belgium 2023 ​
​Weekend 1: Friday July 21 – Sunday July 23
​Weekend 2: Friday July 28 – Sunday July 30
​Boom, Belgium
​adscendo.tomorrowland.com
Debby Wilmsen Press Coordinator & Spokeswoman, Tomorrowland
Jordy Van Overmeire PR Coordinator, Tomorrowland