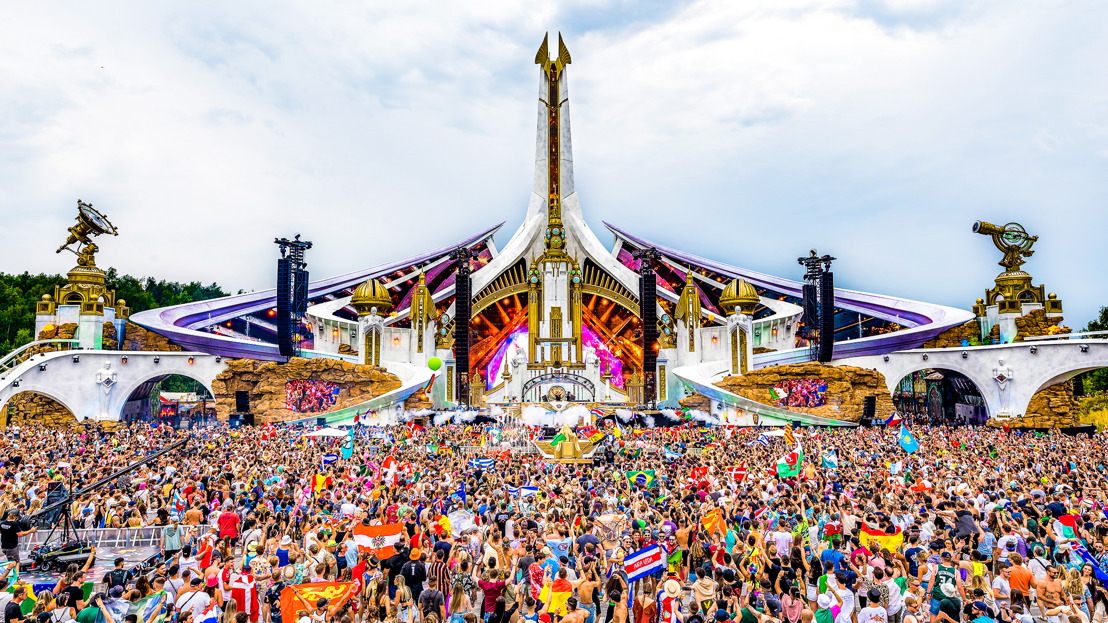 Travel to Tomorrowland from every corner of the world
Tomorrowland's Global Journey ticket sale starts Saturday
Wednesday, 18 January 2023 - It's about time to prepare for a magical summer of 2023! Thinking about heading to this year's edition of Tomorrowland? Thanks to Global Journey, Tomorrowland's official travel program, festivalgoers from every corner of the world can travel all united in an all-in travel experience to the iconic music festival by plane, train or bus and stay at the legendary DreamVille camping grounds or in one of the many Tomorrowland hotels, hostels and B&Bs – making it the easiest way to come discover the beautiful scenery of De Schorre in Boom (Belgium) next summer. The Global Journey packages and tickets go on sale from Saturday January 21 at 17:00 CET on tomorrowland.com.
Last year, more than 46.000 people from across the globe travelled to Tomorrowland with a Global Journey Travel Package, the largest ever travel undertaking by a festival worldwide. For the 2023 edition, Global Journey again offers visitors a carefree all-in experience that combines the festival with both transport and hotel or camping stay, covering your trip from the moment you leave home and guiding you straight to the magical gates of Tomorrowland. Every package includes a Tomorrowland Full Madness ticket and shuttle transport to and from the festival.
People can choose to travel by plane from cities all over the world (regular flights or special Tomorrowland party flights), train (from Paris, Amsterdam, London, Rotterdam, or Dusseldorf) or bus (13 departure cities in France, the Netherlands, Germany, Luxembourg, Denmark or the UK) and opt to stay at DreamVille (Tomorrowland's official camping site right next to the festival grounds) for a unique camping experience with a wide range of different accommodations or sleep in one of the more than 40 Tomorrowland hotels, theme hotels, concept hotels, hostels and B&Bs across Brussels and Antwerp.
Find magic from the moment you check in
​Global Journey has selected a unique hotel in the center of Brussels, which will be transformed into a special Tomorrowland theme hotel, including barbers, hairdressers and make-up artists on every festival day and a bunch of other surprises to enjoy the real fairy tale of Tomorrowland. There are also 3 concept hotels to choose from: each hotel has their own unique concept and focuses on a specific aspect to immerse guests in another world – from sleeping in nature to a botanical garden and an art gallery.
Travel with Tomorrowland and discover the beauty of Europe and Belgium
​Festivalgoers can also extend their Tomorrowland experience with a unique travel adventure with a group of friends or discover some of Europe's and Belgium's most beautiful cities, finishing off with a weekend of magic at Tomorrowland. Thanks to the Discover Europe journey, people get the chance to enjoy Tomorrowland, as well as discover up to 5 European cities (Amsterdam, Barcelona, Berlin, Brussels, Ibiza, Paris and Prague). In each city, a program with different activities invites guests to connect and make friends with people from all over the world, creating memories and long-lasting friendships. The Discover Belgium experience gives you the opportunity to explore the variety of Belgium with 4 magical trips to the most beautiful cities of the home country of Tomorrowland: Antwerp, Bruges, Ghent and Brussels.
Specially curated experiences
​When you book a Global Journey package with arrival on Wednesday (or sooner), Global Journey surprises you with an exclusive Belgian Journey on Thursday, giving you the chance to discover the beauty of a Belgian city and some local specialties and participate in different activities together with the People of Tomorrow. People who are staying in a hostel or hotel in Brussels can also go to Invited Brussels: an official Global Journey pre-party on a unique location in the Belgian capital on Thursday evening. Before taking the memories of a legendary Tomorrowland experience back home, Global Journey invites you to an exclusive Detox Day on Monday after Tomorrowland to recover from the madness. The Detox Day is all about relaxing, recovering and healthy activities in a green environment, while enjoying smoothies, a salad bar, games, yoga, pilates, massages and more.
The Global Journey packages and tickets go on sale from Saturday January 21 at 17:00 CET on tomorrowland.com. Please find a complete overview of all the different Global Journey packages and tickets here. For a chance to buy tickets during the different ticket sale dates for Tomorrowland Belgium 2023, people will need to pre-register via the Tomorrowland Account on adscendo.tomorrowland.com.
More Global Journey pictures right here.
​More DreamVille pictures right here.
Ticket sale dates for Tomorrowland Belgium 2023
Global Journey Sale: starts on January 21 at 17:00 CET
Worldwide Pre-Sale: starts on January 28 at 17:00 CET
Worldwide Ticket Sale: starts on February 4 at 17:00 CET
Tomorrowland Belgium 2023
Weekend 1: Friday July 21 – Sunday July 23
Weekend 2: Friday July 28 – Sunday July 30
Debby Wilmsen Press Coordinator & Spokeswoman, Tomorrowland
Jordy Van Overmeire PR Coordinator, Tomorrowland