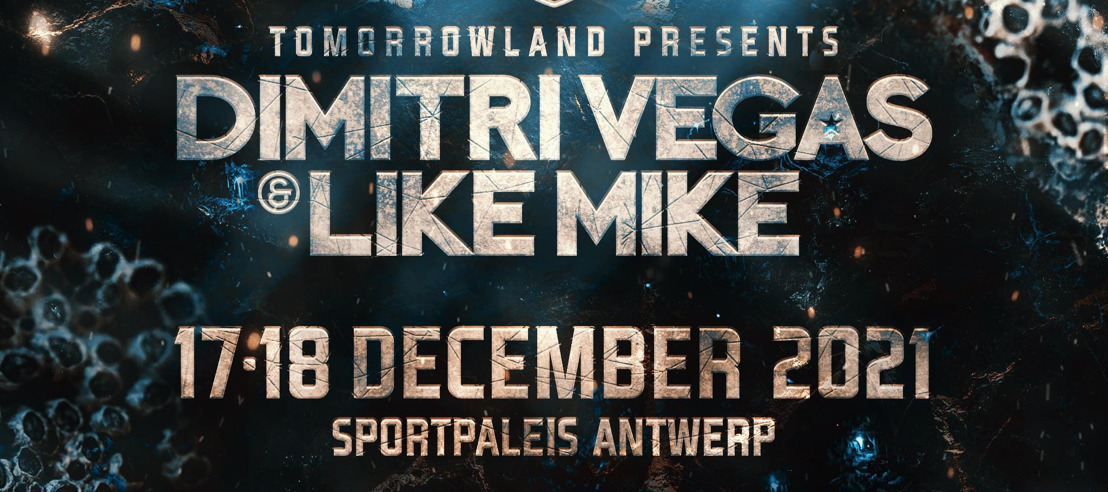 Tomorrowland presents: Dimitri Vegas & Like Mike
Dimitri Vegas & Like Mike are bringing the madness back to the Sportpaleis on December 17 and 18, 2021
Monday, 29 March 2021 - You can already start looking forward to this autumn, because Tomorrowland and Dimitri Vegas & Like Mike will again transform the Antwerp Sportpaleis into a magical indoor festival. And they will be pulling out all the stops: it promises (for the eighth time already!) to be two crazy and spectacular evenings with their greatest hits but also a lot of new music, plenty of national and international artist friends and a touch of Tomorrowland magic. Dimitri Vegas & Like Mike will be behind the DJ decks in the Sportpaleis two nights in a row: on Friday 17 and Saturday 18 December. Tickets for both shows are available from Friday April 2, 10h00 CET and can be purchased online at livenation.be
Great news! Since 2012 it has been a regular appointment on many people's calendar: the concerts of Dimitri Vegas & Like Mike at the Sportpaleis. And this year too, the two brothers will be coming to the Sportpaleis. Production is once again being provided by Tomorrowland, meaning that the stage, decoration, show and all special effects are in the hands of the creative Tomorrowland team. And that promises to be both spectacular and magical.
Dimitri Vegas: "We are incredibly excited to perform again. We want to see our fans right there in front of us again and we're looking forward to a big party. Everyone is hereby officially warned. And 2022 will be a festive year anyway because Mike and I have been on stage together for 15 years. The shows in the Sportpaleis are therefore the kick-off of a sensational year."
Although Dimitri Vegas & Like Mike were unable to tour last year, they certainly haven't been sitting still. They were the headliners at the digital Tomorrowland festivals and together released songs like the "HWAA" remix and "Too Much". Mike launched his own clothing line and a solo album. Dimitri in turn announced that he will soon be a father, there are several film projects on the agenda, he experimented with his own sound and launched a solo single: "Pull Me Closer'.
Tickets for 'Tomorrowland Presents: Dimitri Vegas & Like Mike' go on sale on April 2, 10h00 CET at livenation.be.
15 years of Dimitri Vegas & Like Mike
Dimitri Vegas & Like Mike's great-grandfather helped build the Antwerp Sportpaleis.

The Belgian brothers have been voted the best DJs in the world twice already. In 2015 and 2019, Dimitri Vegas & Like Mike came in first in the DJ MAG top 100. For the last 7 years they were continuously in the top 2 of the list.

The brothers were on the smallest stage of the festival for the very first time at Tomorrowland. Dimitri Vegas previously worked as a backliner at the festival.

In 2010 Dimitri Vegas & Like Mike made the anthem for Tomorrowland together with Tara McDonald and Dada Life. The single "Tomorrow" was the first track the brothers released on their own label "Smash the House".

In 2012 they performed The Garden of Madness at the Antwerp Sportpaleis for the first time. In 2016, "Garden of Madness" was introduced at Ushuaïa in Ibiza. Good for 15 shows annually with a total of 105,000 revellers

Artists like Ne-Yo, Steve Aoki, Afrojack and Armin van Buuren have made appearances at the Sportpaleis during the shows of Dimitri Vegas & Like Mike.

Dimitri Vegas & Like Mike have more than 4.7 million subscribers on YouTube and more than 12 million listeners per month on Spotify and are, according to Spotify, the most listened to Belgian artists. Top 5 most streamed Dimitri Vegas & Like Mike tracks: Instagram (229 million); Complicated (148 million); Tremor (86 million); Higher Place (81 million); Hey Baby (77 million).