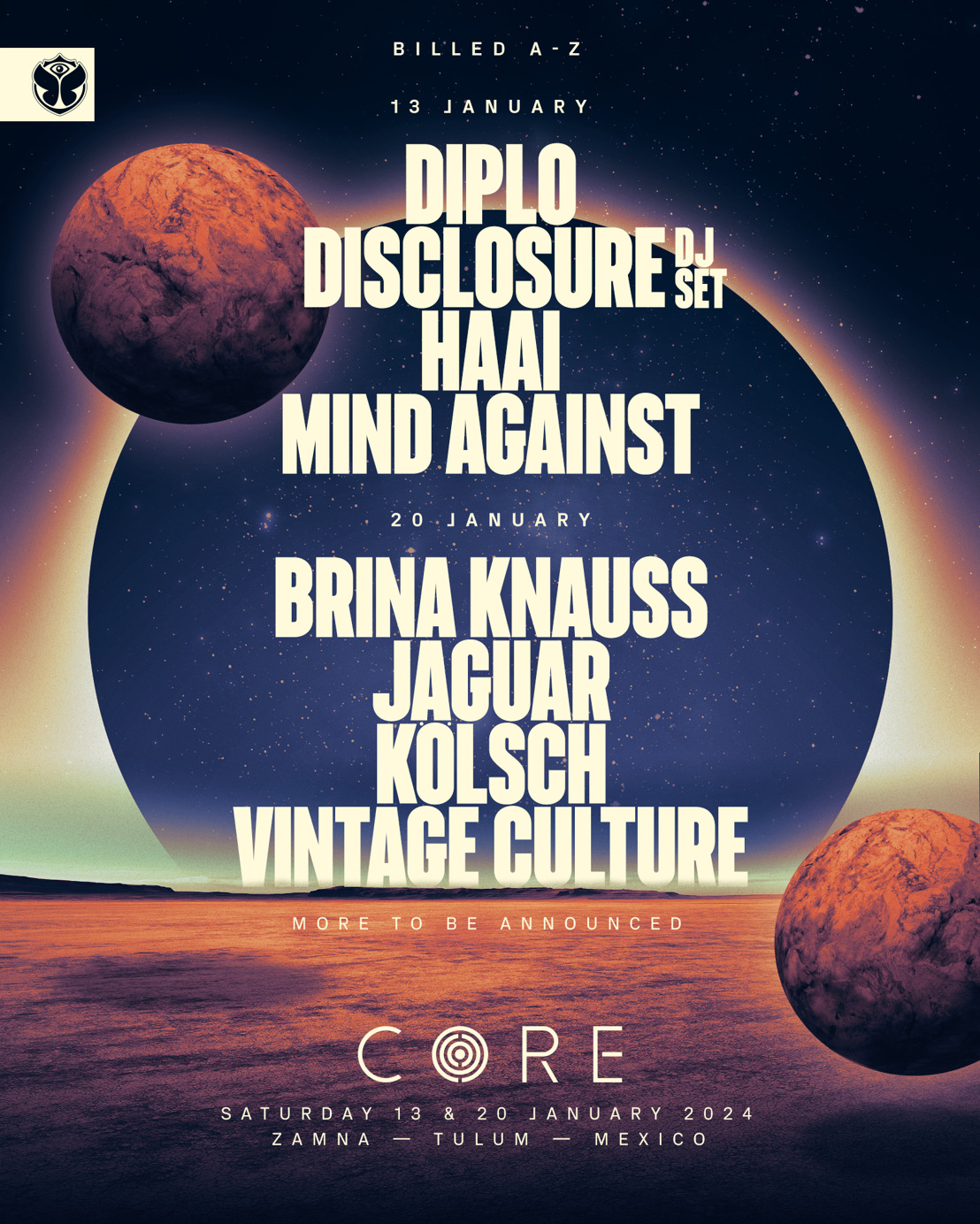 'Tomorrowland presents CORE Tulum' reveals the first names
Brina Knauss, Diplo, Disclosure (DJ set), HAAi, Jaguar, Kölsch, Mind Against and Vintage Culture will be the first ones to perform on the brand-new CORE stage
Thursday, 16 November 2023 - The countdown is on! 'Tomorrowland presents CORE Tulum' has announced the first names for the highly anticipated 2024 edition at Zamna in Tulum, Mexico. Featuring a stellar line-up with Diplo, Disclosure (DJ set), HAAi and Mind Against on January 13 and Brina Knauss, Jaguar, Kölsch and Vintage Culture on January 20, a brand-new CORE stage – entirely designed and crafted in-house by the renowned creative team behind Tomorrowland – will be unveiled to the world for the very first time in the heart of Tulum's jungle at the beginning of next year. More names will be announced soon. Tickets are available via core.world/tulum.
After having made a breathtaking sold out debut in the heart of Tulum's jungle earlier this year, Tomorrowland is bringing back the legendary CORE stage to Mexico for two nights on January 13 & January 20, 2024. Presented as a world premiere, a newly crafted CORE stage will be revealed to the world in one of the most magical places on the planet where music and nature come together. More than 32.000 music lovers will be immersed in the jungle rhythms of Tulum and dancing to the finest sounds across 3 stages nestled amongst a lush natural scenery, surrounded by the magical Zamna cenote and the raw beauty of nature's surroundings.
Tomorrowland's renowned creative team has been working on a mythical new CORE stage along with a spectacular audiovisual experience for over a year, ready to take the experience and design to a whole new level. As a temple of human expression centered around a figure with a serene, upward gaze, the first magnificent CORE stage found its origins in Tomorrowland's digital festival and turned in no time into a true crowd favorite and Tomorrowland classic. Set to become one of Tomorrowland's most iconic new stages after its introduction in Mexico, the beloved CORE stage will continue to pop up around the globe with performances from the scene's leading acts in house & techno, including two weekends in the enchanting forests of Tomorrowland in Belgium in 2024.
Tomorrowland presents CORE Tulum
​January 13 & January 20, 2024
​Zamna Festival, Tulum, Mexico
​Tickets & info: www.core.world/tulum
About Tomorrowland
​​Tomorrowland is one of the largest and most iconic music festivals in the world held in recreation area De Schorre in Boom, Belgium, organized and owned by the original founders, the brothers Beers. Tomorrowland was first held in 2005 and has since become one of the world's most notable global music festivals. It takes place every year in summer and stretches over 2 weekends, welcoming 400,000 People of Tomorrow from over 200 countries, and selling out in minutes year after year. Tomorrowland caters to all genres in electronic dance music with hundreds of renowned artists performing across more than 16 different stages. Being a home to hundreds of thousands of people from all walks of life, one of the most unique things about Tomorrowland remains the whole world coming together in one magical place with everyone being equal and uniting as one – symbolizing the values of freedom, respect, diversity, and solidarity.
Over the past 19 years, Tomorrowland has become a true global phenomenon that connects people from every corner of the world. Tomorrowland has evolved into a global entertainment brand and media powerhouse with new festivals & events like Tomorrowland Brasil in Itu, São Paulo, Tomorrowland Winter in Alpe d'Huez in France, CORE Festival in Brussels and CORE Tulum in Mexico, the radio station One World Radio, the record labels Tomorrowland Music and CORE Records, the Tomorrowland Academy (DJ & producer school), the music management & booking agency One World Artists, the Tomorrowland Foundation with Music & Arts Schools in Nepal and India, the apparel & accessories label Tomorrowland Store, the Tomorrowland Home Collection, the year-round MESA - The Tomorrowland Restaurant and Tomorrowland DJ & Experience Store in Antwerp, the Tomorrowland Kitchen at Gare Maritime in Brussels, the sustainability platform Love Tomorrow, Tomorrowland Fiction, the Terra Solis Desert Destination in Dubai, the spectacular immersive experience The Great Library of Tomorrow in Barcelona, a yearly residence at Ushuaïa Ibiza, the annual Dimitri Vegas & Like Mike shows in Sportpaleis Antwerp, the iconic Tomorrowland aftermovies and several exclusive documentaries, several groundbreaking digital festivals, the sparkling wine Solo Vida, Europe's most spectacular rollercoaster The Ride to Happiness by Tomorrowland at Plopsaland De Panne, the specially painted aircraft Amare in collaboration with Brussels Airlines, the Tomorrowland hot air balloon Zephyr, Tomorrowland art projects (The Stairway To Unity, One World Bridge, Magical Troll Forest), the Tomorrowland Hymn by Hans Zimmer, Tomorrowland NFTs and much more.
Debby Wilmsen Press Coordinator & Spokeswoman, Tomorrowland
Jordy Van Overmeire PR Coordinator, Tomorrowland