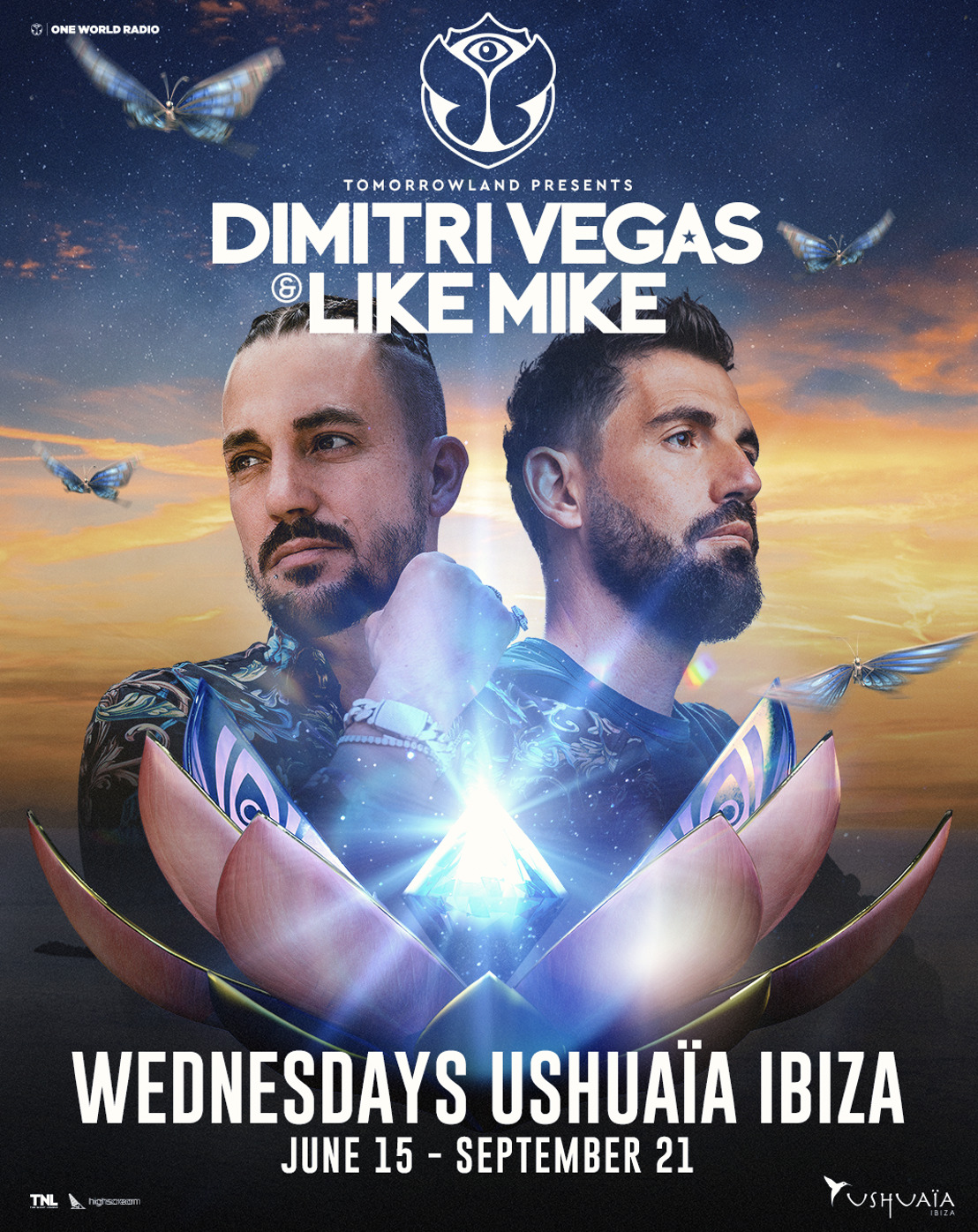 Tomorrowland is bringing back their magic to Ibiza
'Tomorrowland presents Dimitri Vegas & Like Mike' returns to Ushuaïa Ibiza during summer
Tuesday, 15 March 2022 - 2022 promises to have a wonderful summer in store… Tomorrowland is finally bringing back their magic to the magnificent island of Ibiza! From June 15th until September 21st, Tomorrowland returns to Ushuaïa Ibiza with a string of legendary shows hosted by the iconic brother duo Dimitri Vegas & Like Mike. The renowned Belgian brothers and Tomorrowland veterans will turn the famous poolside stage of the #1 outdoor club in Ibiza into a smashing Tomorrowland party, supported by other glorious artists all summer long.
The fairytale continues and Tomorrowland's breath-taking Crystal Garden stage will find its way to the White Isle for the summer of 2022, catching the energy of the shimmering sunlight reflections on the surface of the Mediterranean Sea. Uniting the sunlight's energy with Ibiza's magical summer vibes, the Crystal Garden will reflect this intense energy into its marvelous crystals and flowers – set to mesmerize partygoers from around the globe.
Dimitri Vegas & Like Mike: "We are super stoked to be back at Ushuaïa Ibiza. After two years, we couldn't be more excited to return to our Ibiza residency and re-unite with our fans on the magical island every week."
'Tomorrowland presents Dimitri Vegas & Like Mike' treats partygoers to an amazing party venue, elaborate stage set-up and powerful DJ sets from well-known international artists. Energetic music vibes in a spectacular Tomorrowland setting, designed by the creative team behind the legendary Belgian festival. The luxurious poolside stage at Ushuaïa Ibiza has become the perfect canvas to showcase Dimitri Vegas & Like Mike and the world's leading festival. Becoming the first ever duo to win the World #1 DJ's crown at the DJ Mag Top 100 DJs Poll, Dimitri Vegas & Like Mike continue to stand strong and take center stage amongst the ever-changing musical landscape. Their live combination of DJ sets and crowd busting MCing continues to propel them into global stars.
As always, a diverse collection of talent will perform at 'Tomorrowland presents Dimitri Vegas and Like Mike' over the summer. The full line-up will be revealed soon!
Tomorrowland presents Dimitri Vegas & Like Mike
​Wednesdays at Ushuaïa Ibiza
​June 15 – September 21, 2022
​Tickets & info: tomorrowland.com
Ushuaïa Ibiza, Playa d'en Bossa 10, 07817 Sant Jordi Ses Salines, Ibiza theushuaiaexperience.com
​instagram.com/ushuaiaibiza | tiktok.com/@ushuaiaibiza | facebook.com/ushuaiaibiza
About Tomorrowland
​Tomorrowland is one of the most popular and iconic music festivals in the world held in Boom, Belgium, organized and owned by the original founders, the brothers Beers. Tomorrowland was first held in 2005 and has since become one of the world's most notable global music festivals. It takes place every year in summer and now stretches over 3 weekends in 2022, welcoming 600,000 People of Tomorrow from over 200 countries, and selling out in minutes year after year.
Tomorrowland is located in a beautiful natural place, recreation area De Schorre, in the town of Boom, Belgium. It is a true fairy tale world situated in beautiful natural surroundings, with a strong eye for detail such as enchanting décor, fascinating acts and peripheral animations, amazing tasty and healthy food and drinks, spectacular fireworks - an unforgettable and incomparable show. Every year, the festival features a special theme that inspires the famed MainStage design and stage production.
The 16th edition of Tomorrowland in 2022 will take place from 15 July to 17 July, from 22 July to 24 July and from 29 July to 31 July. More info: tomorrowland.com
About Dimitri Vegas & Like Mike
​Dimitri Vegas & Like Mike's path from celebrated DJs to dominating the global electronic music scene has been on a constant, upward trajectory leading them to once again become the World toppling No.1 DJs. Having won the 2019 edition DJ Mag's Top 100 DJs poll the pioneering duo return to the top spot following their debut back in 2015, that saw them become the first-ever duo to win the No.1 DJ's crown. Their unique live shows have propelled them into global stars and enabled them to become two of the most prominent dance music figures of the modern era. The anointed 'King of Tomorrowland' set the world stage on fire with countless headline performances for festivals such as EDC Las Vegas, EXIT festival, Parookaville, UNTOLD, Sensation and Creamfields. As well as led to the duo becoming a fixture on stages normally reserved for pop and rock stars, of which have included the UEFA Champions League Final in Madrid andLollapalooza South America.
Having gone Platinum with 'The Hum', their magic touch was repeated on the Ne-Yo collaboration 'Higher Place' spending 10 weeks atop of the Belgian chart and securing the #1 Billboard Dance Chart spot. This placing reoccurred with the release of their single 'Hey Baby' with Diplo. The brothers teamed up with Hans Zimmer for the 5th instalment of the blockbuster movie 'Pirates of the Caribbean' to rework 'Dead Men Tell No Tales', whilst their single with David Guetta and Kiiara 'Complicated' to date has amassed over 127 million streams on Spotify and 60 million YouTube views. All of which has led to the duo winning numerous awards including MTV EMA for 'Best Belgian Act' at the MTV EMA, as well as having collaborated and remixed artists as diverse as Coldplay, The Chainsmokers and Lady Gaga.
Netting the #1 spot in their native Belgium and going platinum with 'The Hum', their magic touch was repeated as their Ne-Yo collaboration 'Higher Place' spent 10 weeks atop of the Belgian singles chart and secured the #1 Billboard Dance Chart spot. This placing reoccurred with the release of their Diplo collaboration 'Hey Baby' and more recently the unstoppable duo saw their single 'Selfish' (feat. Era Istrefi)secure the #1 position in the Billboard Dance Chart. Their single 'Compilated' with David Guetta and Kiiara 'Complicated' to date has amassed over 135 million streams on Spotify and 75 million YouTube views, whilst the recent All-Star line-up on one of the biggest songs of summer 2019, 'Instagram', involving the likes of Daddy Yankee and Natti Natasha continues to grow with more than over 42 million YouTube views and over 158 million streams on Spotify. The brothers closed the decade with another monster collaboration of Sebastian Yatra, Afro Bros, Camilo and Emilia on 'Boomshakalaka' which so far has received more than 35 million combined streams. These releases add to an already impressive body of collaborative work that to date includes studio time with the crème de la crème of artists in Gucci Mane, Armin van Buuren, Ummet Ozcan, Martin Garrix, Vini Vici, Fatboy Slim, Steve Angello, Afrojack, Lil Jon and Kid Ink.
Noting 13 million Facebook likes, over 2.9 million Twitter followers, 4.2 million Instagram fans, as well as more than 1.1 billion YouTube views and 12.9 million monthly Spotify listeners, the Dimitri Vegas & Like Mike phenomenon is a story that continues to unfold.
www.dimitrivegasandlikemike.com | www.youtube.com/user/dimitrivegasonline
​www.twitter.com/likemike | www.twitter.com/dimitrivegas
​www.facebook.com/dimitrivegasandlikemike |
​www.soundcloud.com/dimitrivegasandlikemike
​www.instagram.com/dimitrivegasandlikemike
About Ushuaïa Ibiza Beach Hotel
​Ushuaïa Ibiza Beach Hotel is a luxurious 415-room hotel comprising of two buildings: The Ushuaïa Club, featuring a world-renowned poolside stage, and The Ushuaïa Tower, offering breathtaking views of the Mediterranean. Ushuaïa Ibiza Beach Hotel is dedicated to providing the best outdoor entertainment coupled with a modern, cutting-edge hotel experience. Designed for the discerning traveller seeking the fun and entertainment associated with Ibiza, the hotel continuously raises the bar from Swim-Up room options to daytime parties hosted by celebrated DJs, ensuring that the party never stops. Its collection of dining options is unrivalled, from Ibiza's first premier steakhouse Montauk Steakhouse Ibiza and Minami Japanese Restaurant serving sushi and other Japanese delicacies, to The Oyster & Caviar Bar beside the pool and the renowned The Beach by Ushuaïa Ibiza providing the perfect fuel for Ibiza party-goers, or the Italian Sir Rocco Beach Trattoria. Visit www.theushuaiaexperience.com
About The Night League
​Founded in 2001 by events entrepreneur Yann Pissenem, The Night League is a 360 music and entertainment company, dedicated to every facet of event and venue management. For over two decades, The Night League has created and delivered world-class music experiences through globally-renowned in-house brands Ushuaïa Ibiza, Hï Ibiza, ANTS and Children of the 80's, as well as collaborating with some of the world's most influential artists, festivals and events to create bespoke, pioneering concepts. From our event producers, venue operators, booking managers, artist management, marketing and design teams, TNL consistently goes beyond expectations, fusing music and art to deliver profound experiences that invigorate audiences around the world.
Debby Wilmsen Press Coordinator & Spokeswoman, Tomorrowland
Jordy Van Overmeire PR Coordinator, Tomorrowland