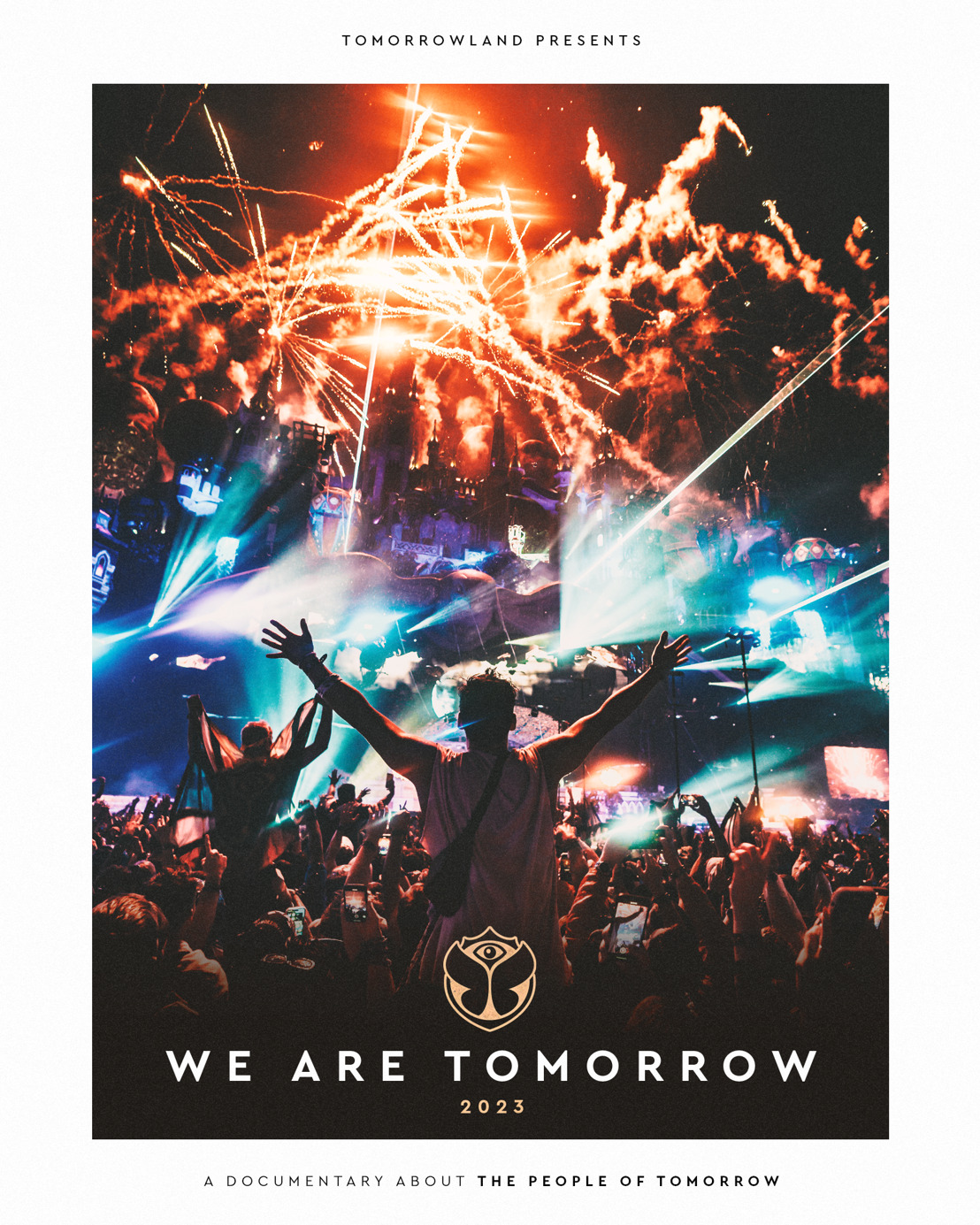 Tomorrowland and Amazon Music present 'We Are Tomorrow'
An emotional and authentic documentary about four People of Tomorrow, including the Brazilian DJ and producer Alok
Thursday, 21 September 2023 - In July 2023, Tomorrowland celebrated its legendary 17th edition with 400.000 souls from over 200 nations gathering during two weekends of magic. The world renowned electronic music festival is now thrilled to announce its collaboration with Amazon Music to present 'We Are Tomorrow' – a touching documentary that provides an in-depth look into the magic, music and global community that defines Tomorrowland. 'We Are Tomorrow' covers the unique journeys and personal stories of four People of Tomorrow attending the Belgian festival in 2023 – Brazilian DJ & producer Alok, Carlos from Peru, Alwyn from India and Veronika from Ukraine – capturing the hearts of music enthusiasts, festivalgoers, and anyone curious about the cultural phenomenon that is Tomorrowland. The short film is now available to watch on YouTube and on Amazon Music.
Tomorrowland has always been about bringing people from all walks of life together through the power of music and unity, welcoming hundreds of thousands of People of Tomorrow to its fabulous wonderland with electronic music's biggest stars in Boom, Belgium. 'We Are Tomorrow' is a testament to the spirit of Tomorrowland and the global community it has fostered over the last 20 years.
Directed by Wim Bonte, 'We Are Tomorrow' is a 30-minute cinematic journey, portraying the stories of Alok and his musical family, two Ukrainian refugees Veronika and Mykola who volunteered at the festival, the Peruvian Carlos who found love in Belgium with an Antwerp architect Kurt, and the Indian-Australian Alwyn who brought his sister along on the adventure for the first time. Each telling personal stories on what Tomorrowland means to them, alongside spectacular new footage of the festival. Transcending the boundaries of music, culture and emotion, 'We Are Tomorrow' gives viewers an intimate look at the iconic music festival right from their homes, portraying the different protagonists in a raw and authentic way during their journey and joining the celebration on the festival grounds.
Meet the characters of 'We Are Tomorrow':
Alok
​When it comes to dance music, there are few bigger stars in South America than DJ & producer Alok. The Brazilian star made his Tomorrowland debut at Tomorrowland Brasil in 2015 and has become a part of the Tomorrowland family since, playing at several editions. This year, Alok took over Tomorrowland's iconic Mainstage in Belgium for a very special performance. Every first Friday of the month, Alok also hosts his own monthly residency 'Alok Infinite Experience' on Tomorrowland's official radio station One World Radio. Alok's parents were both DJs as well, known as the pioneers of psytrance music and the creators of a fellow electronic music festival in Brazil.
Alok: "Electronic music has always been a big part of my life. I come from a family of DJs, I grew up watching my parents play at festivals around the world, and somehow this encouraged me to follow in their footsteps. At the age of 12, I performed publicly for the first time, at 17 I went on tour alongside my brother, Bhaskar. At some time in my life, I even thought about trying other things, another profession, but music was stronger. Playing at Tomorrowland is a validation that I made the right choice. Being part of the artists who perform at Tomorrowland means leaving behind any doubts about whether or not I should have become a DJ. Tomorrowland's history intertwines with mine. Many things happened in my professional career and, I believe, in the dynamics of the festival as well. Every time we meet again, whether in Belgium or Brazil, is special!"
Carlos
​Carlos, a 29-year-old from Peru, initially discovered Tomorrowland through the aftermovie. He became a true Tomorrowland lover after visiting Tomorrowland Brasil in 2015 with his best friend Elisabeth. Tomorrowland 2022 was a turning point in Carlos' life, after going through a couple of difficult years with the loss of his grandmother and his struggle with depression. Elisabeth convinced him to go to Tomorrowland, hoping he could relive the magic they experienced years ago in Brazil. Carlos made lots of new friends at the festival and also met his current boyfriend Kurt, a Belgian architect. They fell in love and Carlos moved to Belgium to start his new life with Kurt. Besides Kurt, Carlos has his own Tomorrowland family in Belgium, but having to miss his family and friends in Peru, and more specifically his best friend Elisabeth, isn't easy. This year, Kurt set up a special surprise reunion for Carlos and Elisabeth at Tomorrowland.
Carlos: "Tomorrowland healed me when I was down on my lowest. I really love the part that Tomorrowland has changed every single aspect of my life."
Alwyn
​Alwyn grew up in a very traditional family in Mumbai, India. He moved to Australia at the age of 18 to study hospitality, after which he became a chef. He first saw the Tomorrowland aftermovie in 2012, promising himself he would go there one day. Soon after, he went through a divorce which left him financially ruined. After scraping money together, he was finally able to go to Tomorrowland for the first time in 2014 – he has attended every single edition of Tomorrowland since. This year, Alwyn finally got to take his sister with him to Belgium and showed her the festival for the first time.
Alwyn: "I've been coming here since 2014 and I haven't missed a weekend since. I feel like this is my family and my home, it makes me who I am."
Veronika
​Veronika has been living in Belgium since the Russian invasion of March 2022. She came to Belgium all by herself, all the way from Kharkiv, Ukraine, after her city was heavily bombed. Veronika ended up in a host family in Bruges, while her friend Mykola joined her in June 2022, after his house was also bombed. Veronika and Mykola, both passionate electronic music lovers, now live together in Bruges, trying to rebuild their lives there. Together, they joined Tomorrowland this year as volunteers in the recycle team.
Veronika: "Music for me, it's energy. It's freedom. It's something that gives you strength to move on. Tomorrowland is like a fairytale. It's like another world where I can forget about all problems and recharge my energy and strength to move on."
The short film premieres is now available to watch on YouTube and on Amazon Music.
​Check out the official trailer right now.
Debby Wilmsen Press Coordinator & Spokeswoman, Tomorrowland
Jordy Van Overmeire PR Coordinator, Tomorrowland