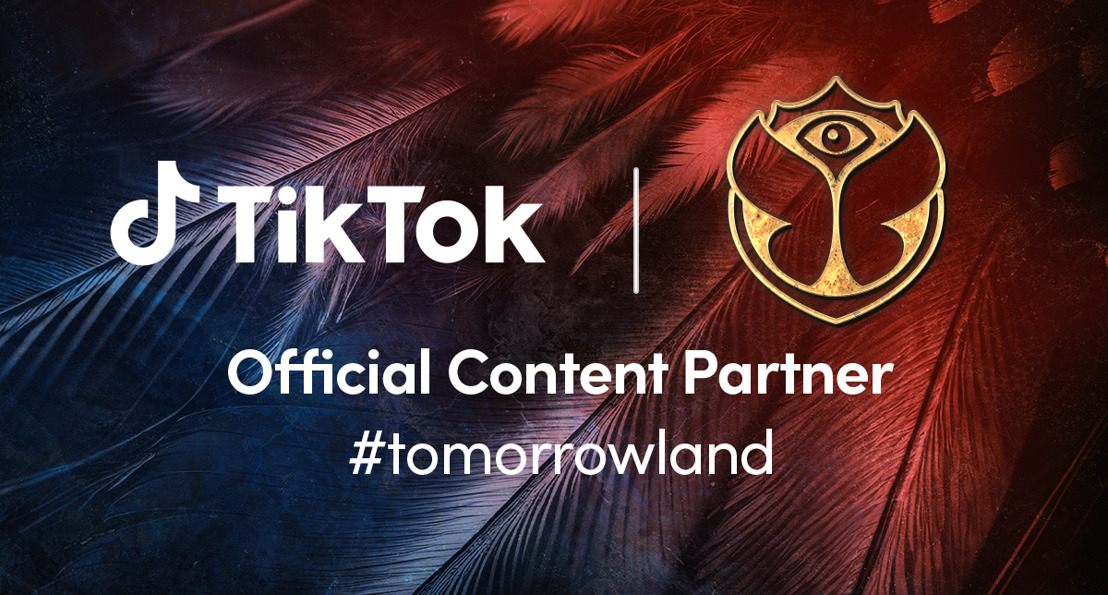 Music, Unity & Magic: TikTok and Tomorrowland announce Official Content Partnership for 2023
TikTok ups the tempo with Tomorrowland
Thursday, 6 July 2023 - We are excited to announce that TikTok and Tomorrowland are teaming up to bring our global community on an even more spectacular journey into the world of music, unity and magic.. TikTok is confirmed as the Official Content Partner of the iconic electronic music festival, Tomorrowland!
TikTok and Tomorrowland will bring the community closer than ever, with TikTok LIVE broadcasts of headline performances from the Main Stage, behind-the-scenes & video on-demand content from artists and creators capturing exclusive content to truly bring the Boom to our global community.
As part of the partnership, TikTok will bring music lovers closer to the iconic #Festival than ever, hosting 24 livestreams with globally renowned artists, DJs and producers including Steve Aoki, Dimitri Vegas & Like Mike, Amber Broos, Lost Frequencies, Timmy Trumpet, Afrojack & Armin Van Buuren who will be performing on the main stage.
Ahead of their main stage performance at Tomorrowland, Dimitri Vegas & Like Mike said: "Excited to see what amazing content we can share with the world this summer. TikTok has opened the doors to a new world with such a high hunger for content consumption that hasn't been seen since our early Tomorrowland aftermovies. These travelled to all corners of world back in the day, in an era before traditional social media started limiting the reach of creators, and we can't wait to show a whole new generation what Tomorrowland is all about."
There will also be in-app playlists, a search hub and activations to get the community pumped for the festival, including a #Tomorrowland global hub which will act as a one-stop shop for fans to enjoy all the content, artist LIVEs and music from the weekend.
A global phenomenon, #Tomorrowland is already hugely popular with the TikTok community, with the hashtag garnering over 2.8 billion views and creators using it as a chance to showcase their favourite #Festival content and performances from the high energy weekends.
Famous for its elaborate stage design and high-quality production inspired by science fiction and fantasy, Tomorrowland is a festival that unites the world with over 200 nationalities represented. Held every summer in Belgium with over 400,000 fans will be attending this year as the festival hosts a diverse line-up of electronic music genres including house, techno, trance and drum and bass.
For the 17th edition, more than 750 artists will play across 16 stages with the event once again taking place over two weekends from 21st-23rd July and 28th-30th July.
Michael Kümmerle, Business Development Lead, Global Music Content & Partnerships at TikTok said: "We're delighted to be partnering with Tomorrowland, one of the biggest and most iconic festivals in the world. With its legendary line-up and truly global audience, Tomorrowland is the perfect festival partner for our flourishing community of #ElectronicMusic lovers who congregate on TikTok. As our relationship with the genre deepens, we're incredibly excited to help grow the festival even further by giving our community 24 livestreams and a truly 360 degree experience of Tomorrowland on TikTok."
Discover #ElectronicMusic on TikTok
​#ElectronicMusic is the central place for music fans on TikTok to celebrate the content, culture, artists and music across electronic and dance with 6.9 billion views. TikTok's impact on the electronic music ecosystem was outlined in the IMS Business Report 2023 released in April, which described TikTok as "the central place for fan engagement" and a key contributor to dance music's robust creator culture, which boasts more creators than ever before.
Over the past few years, TikTok has made its mark in the electronic and dance music scene, spotlighting globally renowned artists and DJs, including Calvin Harris, Shygirl, BICEP, Fred again.., Annie Mac, Nia Archives and Venbee. The platform has also partnered with other iconic EDM events, including Amsterdam Dance Festival.
Make sure to follow Tomorrowland on TikTok!
New to TikTok and want to explore #Tomorrowland? Getting involved couldn't be easier, simply download the app for free via the Apple App Store, Google Play or Amazon.
Tomorrowland Belgium 2023 ​
​Weekend 1: Friday July 21 – Sunday July 23
​Weekend 2: Friday July 28 – Sunday July 30
​Boom, Belgium
​adscendo.tomorrowland.com
Debby Wilmsen Press Coordinator & Spokeswoman, Tomorrowland
Jordy Van Overmeire PR Coordinator, Tomorrowland