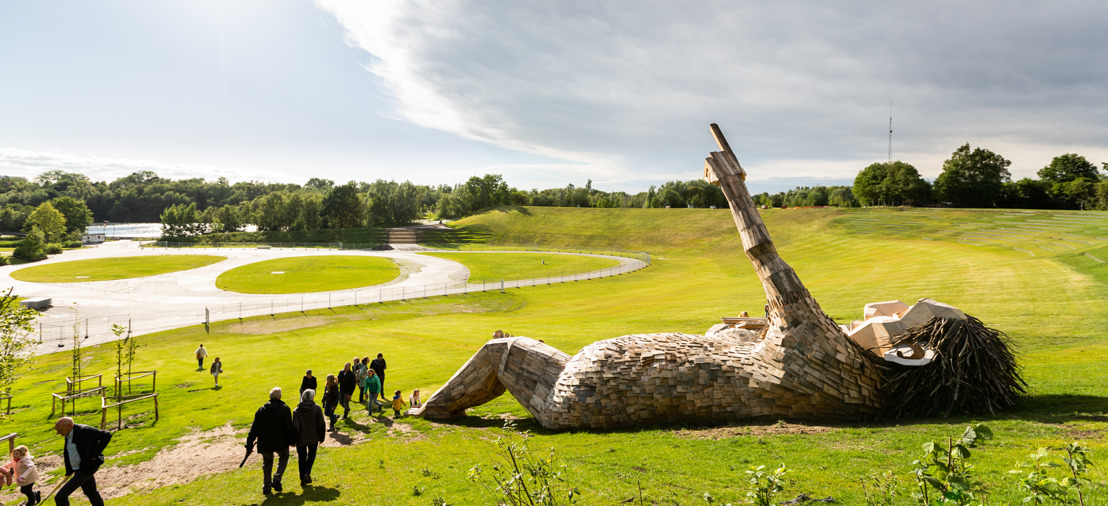 Danish recycling artist Thomas Dambo brings 7 giant trolls to life in Belgium
Tomorrowland gifts De Schorre 7 wooden trolls in honour of 15th anniversary
Monday, 8 July 2019 - Boom, Belgium | If you happen to have visited the recreational domain De Schorre in Boom, Belgium in recent weeks, you probably noticed something remarkable. As if by magic, or some mythological force, seven Scandinavian trolls have set up camp in a 'Magical Troll Forest'. But have no fear: these giants may be big – between four and eighteen metres tall - and look a bit intimidating, but they are actually good natured and wouldn't hurt a fly. At the request of Tomorrowland, the Danish artist Thomas Dambo has brought the trolls to life. Using old pallets, recycled wood, broken branches and fallen trees, he builds the most wonderful creations and mythical creatures who have been known to show up all over the world.
Seven gigantic trolls - some of them busy at their chores, others just taking it easy after a hard day's work – have been making their home in Boom, Belgium since the early June. Look for them off the beaten paths of De Schorre, blending in with nature. One of the giants is carving figures for a totem pole, while one of his lanky friends is fetching water, and another one is making a necklace. Yet another one is collecting stones and a troll couple lazes on the grass, looking for mysterious cloud figures in the sky.
Belgium isn't the first place the giant creatures have appeared. From Florida and Puerto Rico to Copenhagen and South Korea: you can hunt for giant trolls all over the world. Designed and built by the internationally renowned artist Thomas Dambo. In the past four years, together with his team, Thomas has created over 100 art projects made with recycled materials. While he generally exhibits his art installations in the great cities of the world, he responded extremely enthusiastically when Tomorrowland asked him to create a Magical Troll Forest in Boom.
Thomas Dambo: "I'm very proud of this project because we have brought 200 people and 20 tons of trash together. I can dream up crazy things, but now we have created something that is more special than I thought it could be. I make these kinds of projects, because I believe that the world is drowning in trash. People look at trash as something that has no value, but if you apply a creative and open mind to trash, then it can become a ship that can sail the world into the future. It doesn't need to be a world that is drowning in trash, it can be a world that can be saved by our trash. Trash is a material and it only depends on how you work with it. We can design an entire world out of trash. We need to look at it and then think about what to do with it. That's why I'm building these bigger than life scale projects. By doing that and involving people, they will open their eyes and see the possibilities and opportunities that lay in our trash. I hope that my art will inspire people to recycle and encourage them to be kind to nature and our planet".
Recycled wood
​Local residents exploring their backyards, visitors out for a day in the fresh air, walkers enjoying a beautiful patch of nature, fitness buffs who have come to De Schorre to train or festival guests with tickets for Tomorrowland: any of them could find themselves face-to-face with a troll – hidden between the trees. Keep in mind, six of the seven creations are in areas of nature that are not used by Tomorrowland.
The trolls are anything but scary monsters who could frighten little children, they are adorable creations who happen to be several metres tall. And they have been born from recycled wood. The sculptures themselves are all made from reclaimed materials such as wooden pallets, fragments of demolished wooden buildings, broken branches and fallen trees. Wood that comes from the studio of the artist, Thomas, as well as materials found on site at De Schorre. However, in order to ensure that the trolls live a long, carefree, healthy life, the basic framework has been built from new, treated wood. Volunteers from the neighbourhood and woodworking students from the technical school PTS in Boom helped with the construction.
Look-out
​Deep in the woods, the trolls have also built a giant observation tower, out of thick tree trunks and fallen branches. Inside the tower lives 'The Holy Troll' and from the top, you have a spectacular view of De Schorre and far beyond. On a clear day, you can see 25 kilometres away. That means that, you can even spot the Atomium in Brussels on the horizon in the distance.
This year, Tomorrowland will be celebrating its fifteenth anniversary and the trolls will be a gift to De Schorre and the neighbourhood in honour of the occasion. Five years ago, Tomorrowland commissioned the artist Arne Quinze to mark the tenth anniversary of the festival with 'One World', a permanent pedestrian and bicycle bridge that incorporates 210,000 messages from people around the globe. It is literally and figuratively a bridge between culture, nature, music, art, the neighbourhood and end the entire world.