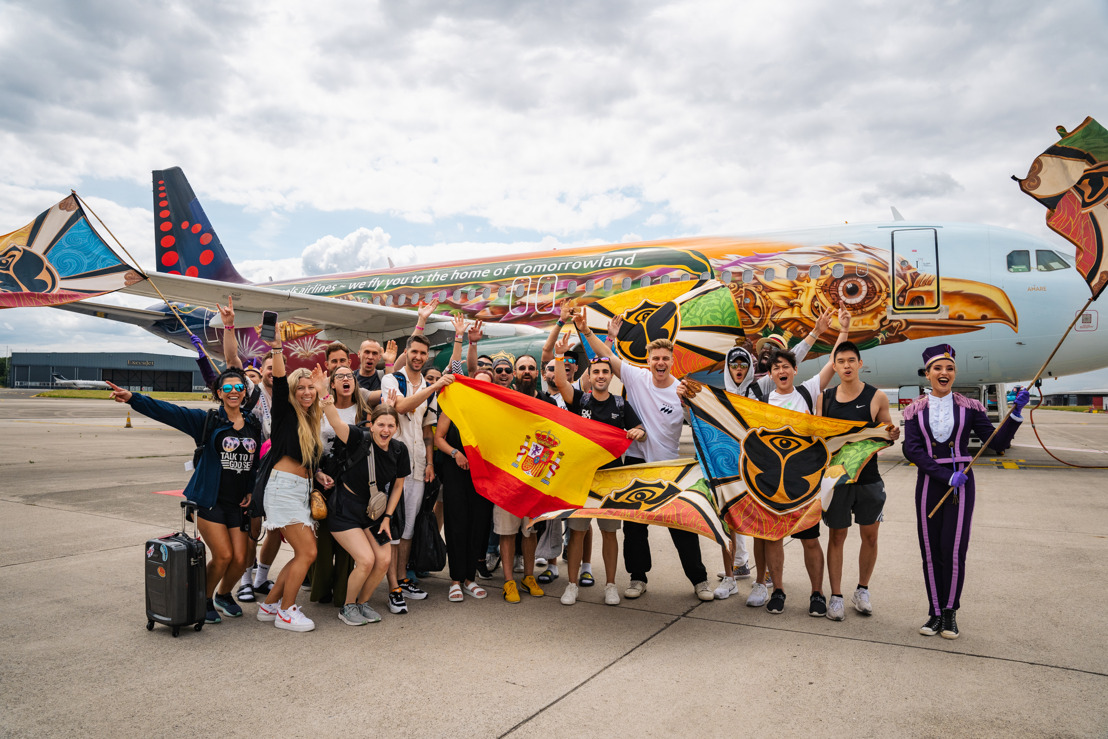 Brussels Airlines brings more than 10,000 festivalgoers to magical Tomorrowland
133 nationalities on board 125 flights
Wednesday, 19 July 2023 - Next Friday, Tomorrowland will once again bring the world together in Boom, Antwerp. And as is tradition, it is doing so in collaboration with Brussels Airlines. From July 19th, 125 flights will depart from 57 different airports to Brussels Airport. Brussels Airlines will bring over 10,000 partygoers, with a Global Journey package, to the world's best music festival.
Tomorrowland is now in its 17th edition and promises to steal hearts all over the world again this summer with top DJ sets, magical surprises and fairytale décor. No less than 400,000 festivalgoers from all over the world will be welcomed at the 'De Schorre' domain in Boom starting July 21st. The very first music lovers will already gather in DreamVille on July 20th. The theme this year is "Adscendo," which means that for two weekends the festival grounds will be transformed into "a magical place high on the horizon". Spread across 16 magnificent stages, more than 750 of the world's best artists in electronic music will make this an unforgettable edition.
Brussels Airlines brings the world to Belgium
​Brussels Airlines is also contributing in making it a memorable experience. Over the past few months, it has sold more than 10,570 flight packages. Music lovers from all over the world are flying from 57 different airports to Belgium for the festival in the coming days, making a total of 125 Brussels Airlines flights.
On board, the five most common nationalities are Spanish (17.6%), Swiss (7.9%), British (4.3%), American (4%) and Norwegian (3.8%). Last year, that top five looked a little different: US (almost 12%), Germany (10.5%), Spain (over 7%), France and UK (both just over 6%).
Also this year, seven flights will be completely transformed into unique #TMLpartyflights. That means passengers can enjoy a first live DJ set at 10 kilometers altitude. On the very first Partyflight on July 19th, Belgian DJ Maori played his set. On board were passengers from 11 different countries, including enthusiastic Americans, Australians, Brazilians, Chileans and partygoers from Thailand and Hong Kong. To get into the mood, they were treated to the first of eleven gate parties in Ibiza.
The Partyflights will be operated by Amare, Brussels Airlines' Airbus A320 dedicated to Tomorrowland. It is already the fifth time that Amare is flying music lovers from all over the world to the festival. Painted on the outside with a beautiful eagle, the aircraft also brings the Tomorrowland vibe to life on the inside, amongst others thanks to extra mood lighting and a top-of-the-line Bose music system.
The magical bird will not only be seen in the sky, but also on the ground. In fact, the eagle is a character in the book "Adscendo" and will also come to life on the main stage on the festival grounds.
"We have been a proud partner of Tomorrowland for 11 years now, one of the most wonderful ambassadors of our country. We also fully support the message the festival promotes worldwide - 'Live Today. Love Tomorrow. Unite Forever'. We share that mission, to bring people from all over the world together. In 2012, we organized the first Partyflights. We also created the Global Journey packages that allow international travelers to combine the festival with both their hotel or camping stay and their transportation. In 2017, we presented Amare, the plane dedicated entirely to the festival. We are convinced that we will achieve many more great collaborations in the future." - Michel Moriaux, Head of Marketing, Brussels Airlines.
Over 180 volunteers at work
​To ensure that partyflight travelers enjoy a relaxing return trip, they can use a baggage drop-off point at the Dreamville campsite. Festivalgoers traveling back home by plane can check in their luggage already at the campground and won't have to drag their bags and tents to the airport themselves. A Dreamville Service Desk is also organised, where travelers can get answers to all their questions.
As it has become tradition, Brussels Airlines invites everyone to take a free ride on "The Home of Amare" attraction on the festival grounds. From this Ferris wheel, music lovers will get a stunning view of the enchanting Tomorrowland ground.
"For months, dozens of colleagues have been working towards this moment. In addition, more than 180 Brussels Airlines volunteers will help ensure a unique and carefree Tomorrowland experience over the next two weeks. And we are quite proud of that. New this year is our collaboration with Ed People, a super popular content creator, who invites people on social media to show off their favorite dance moves." - Hind Hameurlaine, Strategic Partnerships & Business Development Manager, Brussels Airlines.
Passengers will also be able to experience the unique Tomorrowland atmosphere at Brussels Airport. In the Connector, towards Pier A, the airport has made For example, the airport has made room for some fun DJ Booths. On Monday 24 July and Monday 31 July, several DJs will take turns playing sets there between 7 am and 7 pm.
More details are available in the infographic below.
Follow the magic of Tomorrowland 2023 live on One World TV and One World Radio via tomorrowland.com and the Tomorrowland App.
Tomorrowland Belgium 2023 ​
​Weekend 1: Friday July 21 – Sunday July 23
​Weekend 2: Friday July 28 – Sunday July 30
​Boom, Belgium
​adscendo.tomorrowland.com
Debby Wilmsen Press Coordinator & Spokeswoman, Tomorrowland
Jordy Van Overmeire PR Coordinator, Tomorrowland