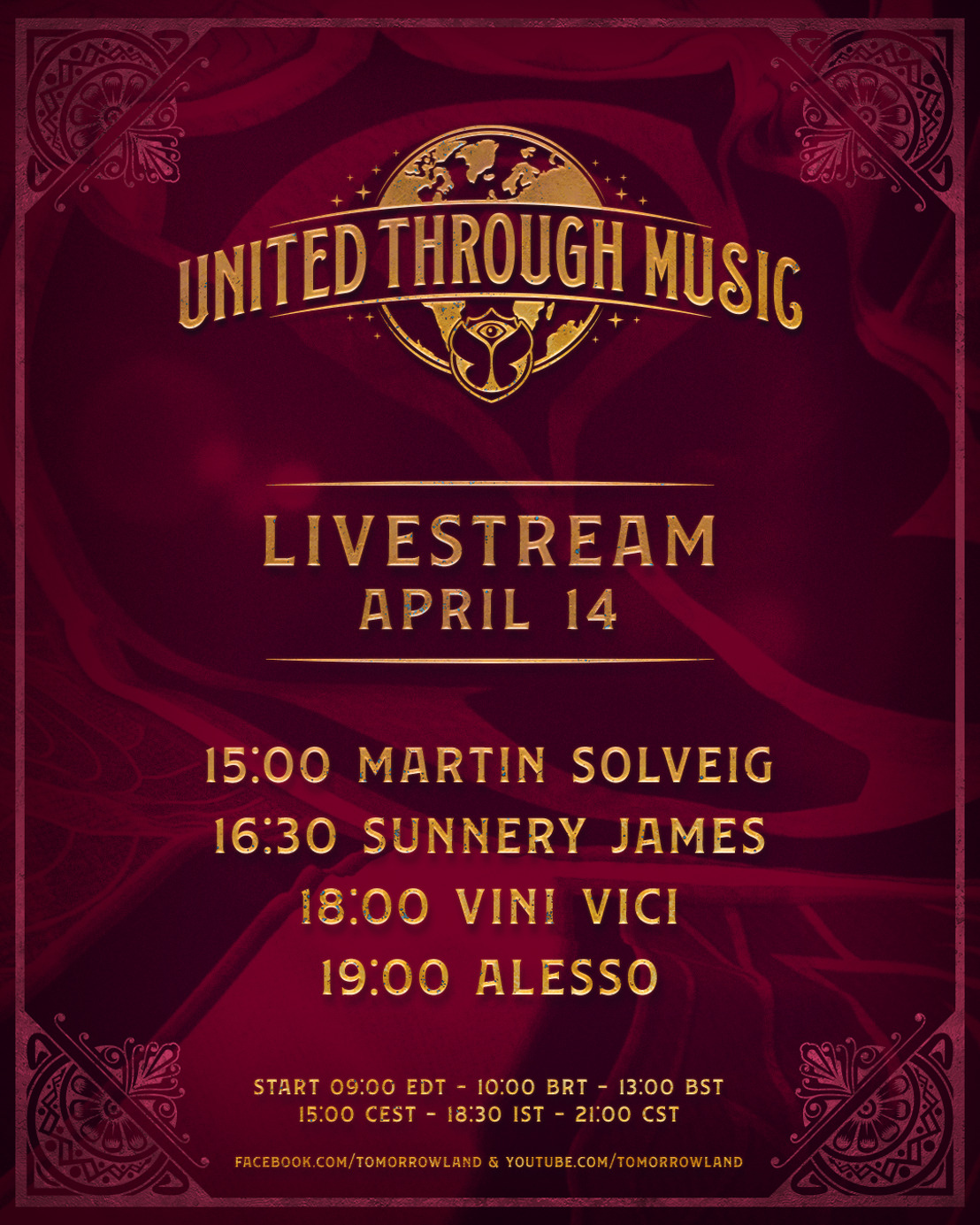 Alesso, Sunnery James, Martin Solveig and Vini Vici will perform unique live sets on 'Tomorrowland Presents: United Through Music'
Tomorrowland set to host another edition of its livestream event after 6.9 million people from 164 countries tuned in last week
Monday, 13 April 2020 - Still riding high following the success of its second edition which saw more than 6.9 million people tune in from 164 different countries, Tomorrowland takes on another week with 'Tomorrowland Presents: United Through Music' across Facebook, YouTube, tomorrowland.com/unite (via video conferencing), Twitch, VK and One World Radio. Set to take place tomorrow – Tuesday April 14 from 15:00 CEST – the live broadcast will feature uniquely curated performances by some of the festival's favorite acts: Swedish DJ and Grammy nominated producer Alesso (live from Los Angeles), Dutch dance music superhero Sunnery James (live from Friesland, Netherlands), French legend Martin Solveig (live from Paris) and Israeli psytrance duo Vini Vici (live from Afula, Israel). Similar to the previous editions, these four top-notch artists will be brightening up the world with their magical sounds by playing brand new and exclusive mixes, each broadcasting live from their own homes, hosted by One World Radio's presenter Adam K (live from London). Relive the previous edition of United Through Music right here.
The worldwide success of last week's United Through Music reached over 6.9 million viewers and listeners – more than double compared to the first edition – including more than 39.000 people from 162 different countries that logged in to join the broadcast via video conferencing. This week, Tomorrowland will once again bring a magical experience into millions of people's living rooms. 'Tomorrowland Presents: United Through Music' will give the People of Tomorrow the opportunity to interact and unite from the comfort of their own homes, by featuring fans of all ages from around the globe on the live stream, showing how connected and united as one large global community we truly are – through the power of music. Viewers and listeners can also ask questions, the best ones will make it to the broadcast.
Tune in to the third edition of 'Tomorrowland Presents: United Through Music' and be part of the show on Tuesday April 14 from 15:00 CEST on Facebook, YouTube, Twitch, VK, Tomorrowland.com/unite (via video conferencing) and One World Radio.